Today we are kicking it really, really old-school.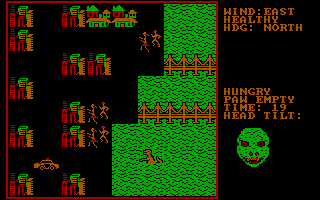 Name and developer, please! Plus, a few years after this version was made, the same company (under a new name) remade it to be more action-oriented and released it under a different name. Bonus points if you can name that game too!
Your reward will be…hmmm…
Well, now I'm thinking. When I bought The Orange Box I got a free gift certificate for Half-Life 2 and Episode 1 (since I already owned them) and I've been wondering what to do with them. It wouldn't be fair to give them away on this Name That Game…but maybe next week I'll do a super-special one and award them as a real prize! So I guess your reward today is that you know I'm going to do this next week!