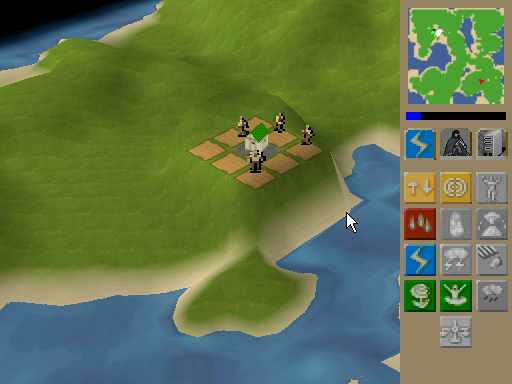 All right, people, here it is. The current source code to Planitia, along with the cut-down, more retro-styled resources. (The previous animated sprites not only didn't look that good, but they ballooned the project size to over a hundred megs – what the hell was I thinking?!)
Click here to download the latest playable version of Planitia!
Click here to download the source code and resources necessary to get the project running!
Now, having clicked that link, your work here is not done. You will read to the end of this entry before you start asking questions about how to get this working. Okay?
That zip file is going to extract into two directories – one called "Planitia" and one called "Framework". That's right kiddies! As a bonus, you get the framework I use to make all my games nowadays.
Here's what you'll need to do to get this project working.
Install Visual C++ Express 2008. Yes, I know, Microsoft just released Visual C++ Express 2010 but I haven't tested with it yet.
Install FMOD EX.
Install a version of the DirectX 9 SDK.
Alter the include and library paths in both the Framework and Planitia projects to point at the local versions of FMOD and DirectX.
Alter the include paths in Planitia to point to the Framework source.
Check Project Dependencies for Planitia and make sure it's dependent on Framework.
The working folder for Planitia is "Redist". You'll probably have to put your versions of fmod.dll and the directx redistributable in there to get your particular compilation working.
I'm sorry I couldn't make this any simpler, but it shouldn't be that hard to get running (under Windows, at least).
If you have any questions (that aren't covered in the above instructions), please feel free to either leave a comment or email me at anthony.salter@gmail.com.
Good luck with the source! And don't worry, just because I'm releasing the current source doesn't mean I'm done with Planitia.
EDIT: I have been asked what license this software is being released under. I am releasing it under the Simplified BSD (or FreeBSD License). The upshot is that I retain copyright, but you are free to do anything you wish with this source code (up to and including developing a commercial project with it) as long as you attribute the original source to me. This source is being provided "as-is" and I take no responsibility for any problems you may have with it.
The complete text of the license follows.
Copyright 2010 Anthony Salter. All rights reserved.
Redistribution and use in source and binary forms, with or without modification, are permitted provided that the following conditions are met:
1. Redistributions of source code must retain the above copyright notice, this list of conditions and the following disclaimer.
2. Redistributions in binary form must reproduce the above copyright notice, this list of conditions and the following disclaimer in the documentation and/or other materials provided with the distribution.
THIS SOFTWARE IS PROVIDED BY ANTHONY SALTER ``AS IS'' AND ANY EXPRESS OR IMPLIED WARRANTIES, INCLUDING, BUT NOT LIMITED TO, THE IMPLIED WARRANTIES OF MERCHANTABILITY AND FITNESS FOR A PARTICULAR PURPOSE ARE DISCLAIMED. IN NO EVENT SHALL ANTHONY SALTER OR CONTRIBUTORS BE LIABLE FOR ANY DIRECT, INDIRECT, INCIDENTAL, SPECIAL, EXEMPLARY, OR CONSEQUENTIAL DAMAGES (INCLUDING, BUT NOT LIMITED TO, PROCUREMENT OF SUBSTITUTE GOODS OR SERVICES; LOSS OF USE, DATA, OR PROFITS; OR BUSINESS INTERRUPTION) HOWEVER CAUSED AND ON ANY THEORY OF LIABILITY, WHETHER IN CONTRACT, STRICT LIABILITY, OR TORT (INCLUDING NEGLIGENCE OR OTHERWISE) ARISING IN ANY WAY OUT OF THE USE OF THIS SOFTWARE, EVEN IF ADVISED OF THE POSSIBILITY OF SUCH DAMAGE.
The views and conclusions contained in the software and documentation are those of the authors and should not be interpreted as representing official policies, either expressed or implied, of Anthony Salter.