My time of copping out is over.
Of course, that doesn't mean that my time of writing good code has started yet.
In any event, I managed to get the demo together. Odd how it always seems to take one more week than I expect for me to get stuff done.
Screenshot: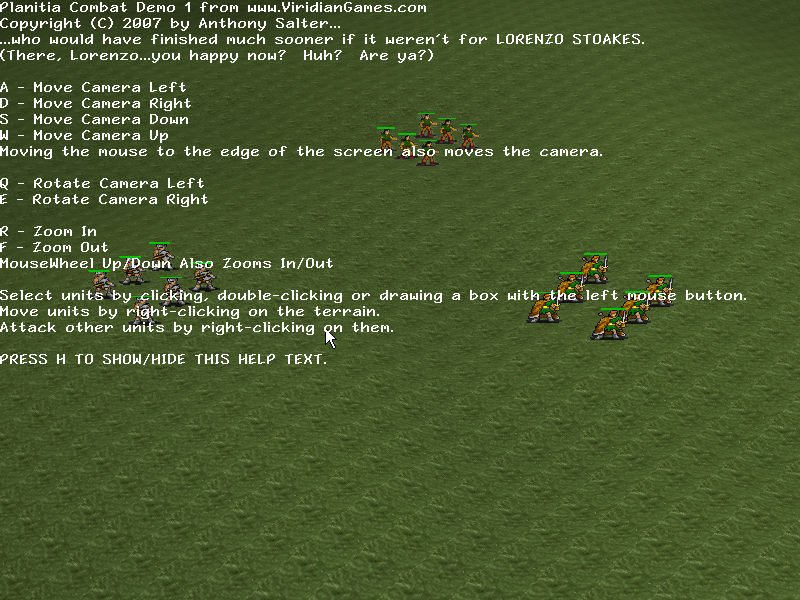 And here's the download link. It's just over a meg.
Please play it! Please comment! Basically I'm looking get the feel of the camera control and the combat very natural – that's all this is about. If you feel that anything works kind of clunky, please tell me. If something you thought should work didn't, please tell me. If your machine crashes, please tell me so I can have you send me your log file.
The next update should have some god powers!
Edit: Thanks to whoever voted this entry up on Qatfish.com – this is my highest-ranking entry ever.
Note: If you get a message saying that you are missing "d3dx9_31.dll", update your DirectX. Yes, even if you have 9.0c. See, there are different versions of 9.0c.
Note: I am aware that moving units off the map crashes the game, but the map is so big that this shouldn't happen accidentally.
Version .11:
Removed two large unnecessary files from the download package, thus shrinking it from five megs to one meg.